Lava Ranch .... FireWise ....
WELCOME to our Fire Wise information pages ....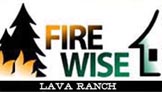 It is my hope that after your visit, you will leave with a little more information and understanding of WildLand/Urban interface and the challenges it gives. I also hope that you will want to return to our site for further information on this very important topic.
I would like Lava Ranch Property Owners to send me pictures of any Fire Wise improvements you have done. You could send "Before" and "After" pictures if you would like. Just send an e-mail to Me and attach any pictures that you would like posted to the WebPage, and also let me know "if" you would like additional information shown with the picture such as a name, comment or Lot Number.


These pictures will let other Property Owners see how easy and fun it is to become Fire Wise and will show everyone how pleasant and safer an area can become with very little work.

Enjoy your visit and we'd appreciate hearing from you.